At Korean Re, we are committed to providing reinsurance services of the highest possible standards, with a focus on sound environmental, social and governance (ESG) practices.
Our commitment to ESG is based on the values of promoting transparency in corporate governance, protecting the environment, and being a socially responsible member of the communities we work and live in. Upholding these values is not just the right thing to do but helps us ensure sustainable business operations. Our success as a company will be driven not just by how well our business is operated commercially, but also by how well we care for the wellbeing of our employees and support the communities in which we operate.
In 2021, Korean Re set up an organizational unit responsible for ESG management for the purpose of establishing and implementing an effective ESG strategy to seek sustainable growth and become a company that is more responsible toward society, employees, and other stakeholders. This organizational change has allowed us to take more effective and centralized approaches to ESG initiatives.
Since the establishment of the ESG unit, we have already made some initial progress. One example of this has to do with Korean Re' ESG rating, which moved up a notch to B+ in the latest ESG ratings assessment by the Korea Corporate Governance Service (KCGS). The overall ESG rating reflects individual ratings in three categories: environmental, social, and governance. We achieved upgrades in all three categories, with the Governance rating raised to A thanks to our moves to improve gender diversity on the Board of Directors and separate the role of the BOD Chair from the CEO.
Our Environmental rating was sharply upgraded to B in 2021 thanks to our efforts to compile and report data related to reinsurance coverage for eco-friendly businesses, green investing, energy consumption, and greenhouse gas emissions. We also obtained a higher rating of B+ for the Social rating compared to the previous year on the back of our programs for employee training and welfare as well as a variety of social contribution activities.
Sustainability is becoming one of the most important considerations that form the basis of our business decisions. In particular, we believe that sustainable investment practices can drive cultural, social, and environmental change, as well as add value to our investment portfolios and enhance our investment returns. As we increasingly incorporate ESG factors into our investment strategy, there has been a rise in the share of ESG-related investments in our alternative investment portfolio, which has continued to perform strongly in terms of yields.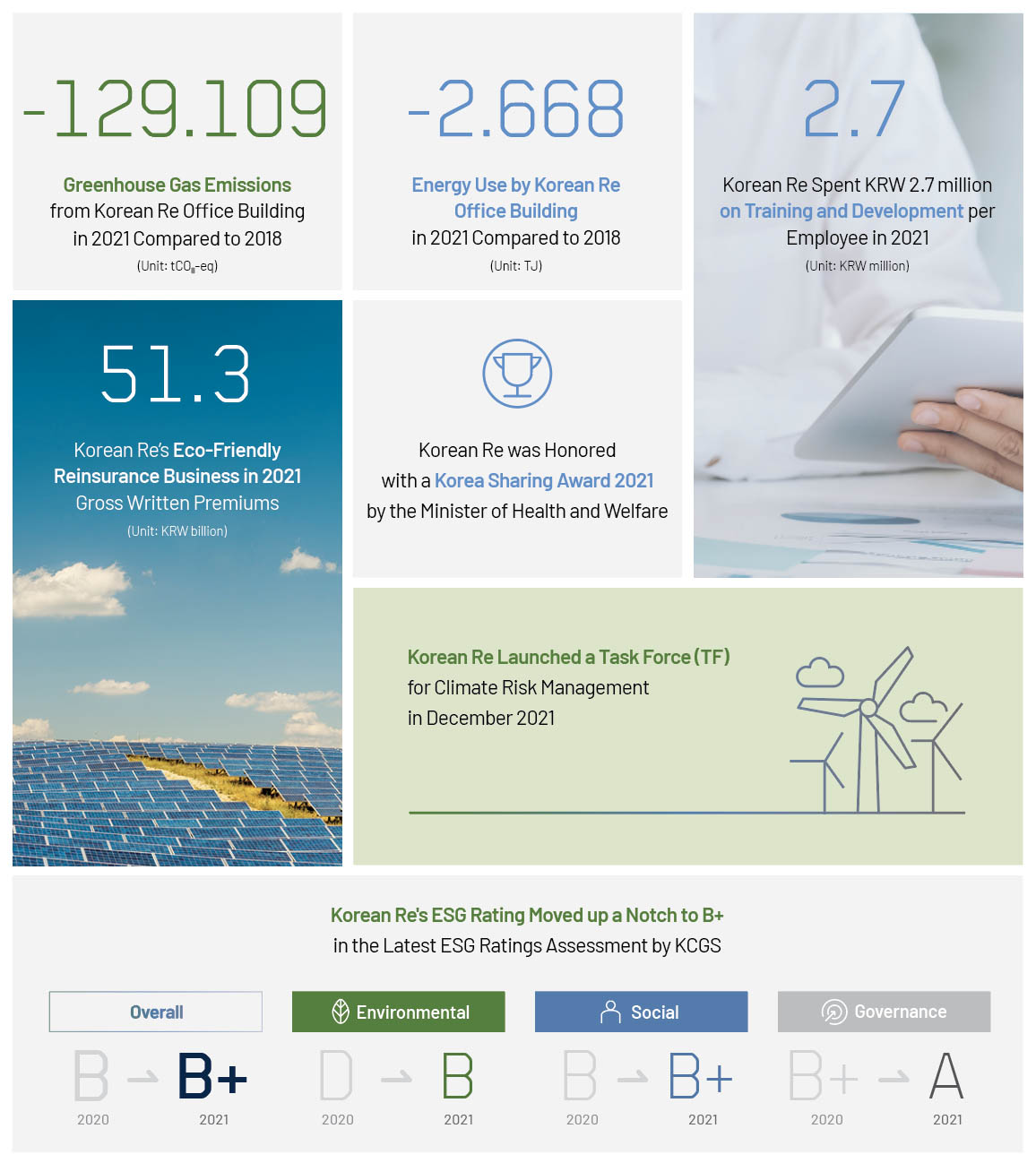 ESG Investment
(Unit: KRW billion)

Korean Re's Alternative Investment
(Unit: KRW billion)
| | | |
| --- | --- | --- |
| | ESG Investment | Total |
| 2021 | 23.5 | 1,009.1 |
| 2020 | 21.3 | 891.8 |
| 2019 | 13.2 | 657.3 |
| 2018 | 19.3 | 461.3 |
| 2017 | 4.4 | 297.3 |