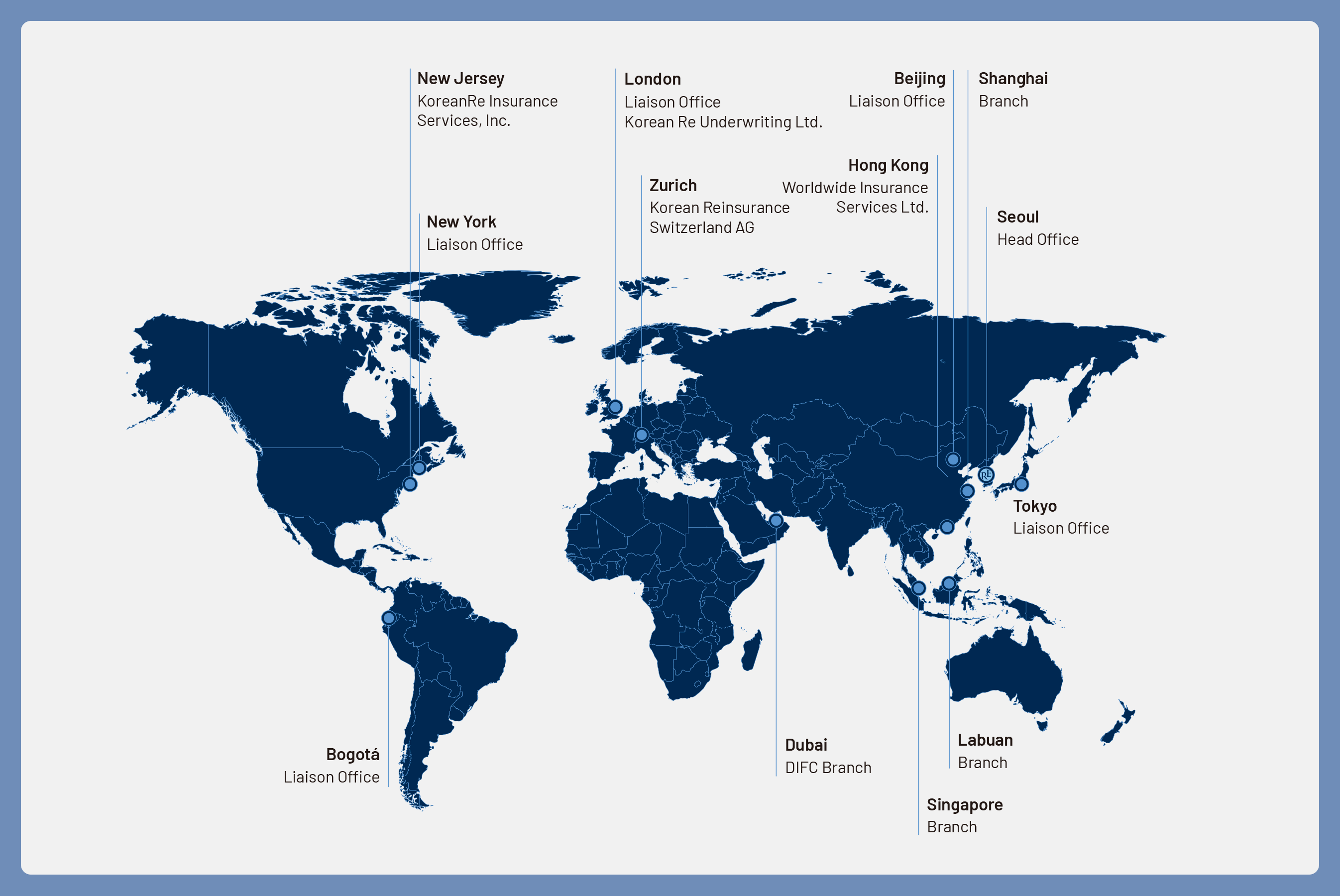 New Jersey
KoreanRe Insurance Services, Inc. (KRIS)
Korean Re obtained a reinsurance intermediary license for KoreanRe Insurance Services, Inc. from the Department of Banking & Insurance in the State of New Jersey in September 2021. The reinsurance intermediary will help Korean Re build stronger brand recognition in the U.S. by serving the interests of insurance companies in the country and securing more flexible and creative reinsurance solutions.
Currently, Korean Re has a liaison office in New York, but it is not allowed to conduct actual business transactions. As a reinsurance intermediary, KoreanRe Insurance Services, Inc. can actively develop new business opportunities with a relatively smaller amount of capital than a branch or subsidiary.
Since Korean Re announced its plan to set up a reinsurance intermediary in the U.S. in September 2020, it has made swift progress in setting up the business. In February 2021, Korean Re successfully established a registered business in New Jersey, followed by the license approval in September. KoreanRe Insurance Services, Inc. is now up and running.
The establishment of the new business in the U.S. is part of Korean Re's global expansion strategy. Since CEO Won took office in June 2013, he pushed ahead with an overseas business expansion drive, leading Korean Re to broaden its global business network. Over the past nine years, Korean Re has built seven new presences, including Korean Re Underwriting Ltd. at Lloyd's of London in the U.K., the Labuan branch in Malaysia, the Dubai DIFC branch in the UAE, Korean Reinsurance Switzerland AG in Zurich, Switzerland, the Shanghai branch in China, and a representative office in Bogotá, Colombia.
The new reinsurance intermediary, which represents another important milestone in our efforts to expand into global markets, will first aim to attract quality business in the northeastern part of the U.S. and then gradually tap into other parts of the country. Backed by the activities of the reinsurance intermediary, we will continue to raise our business profile and drive our business growth in the U.S., which has a global market share of 40% in terms of premium income.
Bogotá
Our representative office in Bogotá was set up in February 2020 after gaining approval from local authorities in Colombia, with which Korea had signed an FTA agreement in 2016. From this new operating base in Bogotá – the capital city of Colombia, Korean Re covers the entire Latin American region, including the Caribbean, where the company has built business relationships with a number of (re)insurers for more than 20 years. The new office was established as part of Korean Re's ongoing initiative to increase its overseas business based on a diversified geographic portfolio. With this office, we will provide improved services to our local clients, explore new business opportunities, and further diversify our overseas portfolio.
Europe, Middle East, and Africa (EMEA)

Zurich
Korean Reinsurance Switzerland AG (KRSA)
Located in Zurich, Switzerland, Korean Reinsurance Switzerland AG (KRSA) is a fully owned subsidiary of Korean Re. At the January 2022 renewals, KRSA has achieved another remarkable growth in line with its medium and long-term strategy, benefitting from the ongoing market hardening. Despite our business growth, 2021 was marked by unprecedented natural catastrophe events in Western and Central Europe. Throughout the year, KRSA proved to be a reliable partner, supporting its clients with stable capacity and professional claims support. KRSA aims to continuously strengthen Korean Re's presence in Europe and to build a leading position to support its clients with comprehensive reinsurance solutions in all major lines of business.
London
Korean Re Underwriting Limited (KRUL)
Korean Re Underwriting Limited (KRUL) was established in 2015 as a subsidiary of Korean Re and has been deploying its capacity to selected syndicates as a corporate member of Lloyd's. Since its beginning in the 1650s, Lloyd's has been a pioneer in insurance and has grown over 350 plus years to become the world's leading market for specialist insurance. As a market that specializes in unusual risks, Lloyd's has built a leadership position in providing capacity for specialty lines including satellites, terrorism, cyber and other emerging risks.
KRUL shares the operating results of various syndicates through investments. It also seeks strategic cooperation with major players in the market to monitor the latest trends of product development, pricing and capacity in advanced markets. By doing so, KRUL supports Korean Re with its initiative to expand into overseas markets and strengthen its global network.
Dubai
Our DIFC branch in Dubai, which opened in January 2018, has achieved relatively successful results in its initial years of operation not only by receiving a stable transfer of existing contracts from the head office but also by attracting new contracts.
The branch office covers the Middle East, all of Africa, Turkey, Greece, and Cyprus, and seeks to further strengthen its presence in the existing market, while actively targeting untapped markets in Africa to seek sustained growth and diversification of its portfolio.

Shanghai
Our Shanghai branch, which opened in April 2020, completed its first full-year operation in 2021 and showed stable growth even in an exceptionally challenging situation amid the COVID-19 pandemic. Since its opening in 2020, the branch has focused on establishing system infrastructure and stabilizing local business operations.
The branch has mainly targeted highly profitable businesses like non-proportional treaties of property and liability, while maintaining a conservative position with the marine and motor businesses and proportional property treaties. Losses from the Henan flood in July 2021 led the branch to experience difficulties in making a profit, and it is poised to take special measures to improve overall profitability in the coming year.
In 2022, we plan to maintain an underwriting stance that is consistent with 2021. As for the proportional treaty business, we will remain conservative to prevent a deterioration of profits. As for the non-proportional treaty business, we will increase the portion of high-quality treaties by actively providing quotation services. In addition, it is essential for us to take differentiation strategies and offer customized services to high-quality customers based on their business results, cash flows, and solvency. This will help us become a stronger player dedicated to taking tailor-made approaches to client engagement.
The Shanghai branch will not only keep pace with the rapidly growing insurance market in China but also cope effectively with local regulatory changes like Solvency ll. The top priority for our third year of operation is to establish a sustainably profitable portfolio and strategy so that we can solidify our position in the market as an onshore reinsurer.
Singapore and Labuan
Our Singapore branch has provided stable capacity to the Southeast Asian market over the last 44 years. Across the market, Korean Re is recognized as a leading reinsurance company that provides reliable quotations based on consistent underwriting policy. We remain actively responsive to our clients' needs as we continuously support their risk management objectives. Along with market development, their needs keep changing and evolving, and we are striving to keep up with market needs and expand our business portfolio accordingly.
Building on our track record in Singapore, our Labuan branch has been serving the Malaysian market as a Tier 2 reinsurer since its opening in July 2017. As one of the market leaders in the region, we will stay committed to providing excellent client services across diverse lines of business. For the sake of administrative cost savings, the branch is operated without staff, as all necessary documentation and administrative activities are handled by our Singapore branch.
Hong Kong
Worldwide Insurance Services (WIS)
Worldwide Insurance Services (WIS), which is based in Hong Kong, has been mainly running a reinsurance broking business since 1995 as a wholly owned subsidiary of Korean Re. As an in-house broker of Korean Re, WIS has access to Korean Re's treaty and facultative businesses. This puts it in an excellent position to support (re)insurers who have limited opportunities to tap into the Korean insurance market. In addition to giving (re)insurers the chance to utilize Korean Re's capacity, its strengths mainly lie in decades of accumulated know-how and expertise in reinsurance, not to mention the insightful knowledge necessary to provide practical value-added services. Moreover, as a licensed broker in both Hong Kong and Lloyd's UK, WIS has a strong worldwide network to operate both Korean and non-Korean businesses. Based on those advantages, WIS works closely with Korean Re to offer the best solutions that meet the increasingly diverse and sophisticated needs of its clients across Asia, Europe, South America and South Africa.