Korean Re's Internal Model Development Project
Korean Re has been working to develop internal models that can provide a more accurate and sophisticated picture of its insurance risk profile. This development project is part of its efforts to deal preemptively with requirements under IFRS 17 and the Korean Insurance Capital Standards, or K-ICS, both of which are scheduled to take effect in 2023.
K-ICS is based on the European Solvency II valuation system, and the parallel implementation of K-ICS and IFRS 17 is expected to increase capital requirements for insurers, as they will be required to apply the fair value approach in measuring their insurance liabilities. Under the new solvency regime where a principle-based approach is taken, insurers are encouraged to establish and use internal models along with the standard model as internal models allow a better assessment of the risks of individual companies and take into account the nature and characteristics of their businesses. While the standard model applies pre-defined shock scenarios, the internal model uses risk multipliers based on a company-specific risk profile. Insurers will be allowed to substitute internal models for the standard model subject to supervisory approval.
The use of internal models is expected to help insurers precisely measure the risks they are exposed to. When internal models are fully embedded in the management processes, they will enable insurance companies to carry out important tasks more effectively such as risk capital assessment, business performance monitoring, and strategic asset allocation. Recognizing these benefits of using internal models, Korean Re plans to build robust internal models in 2022.
Korean Re Insurance Webinars 2021
Korean Re held two insurance webinars in 2021, which were designed to help participants improve their understanding of key topics for the insurance market and provide insights into important market developments.
The first insurance webinar was held on May 21, 2021 to promote discussion about latest market issues and trends including the rise of artificial intelligence (AI) and catastrophe modeling. Over 280 people from the local insurance industry attended the webinar, which consisted of three sessions where each speaker gave an informative presentation on a different topic. The first session was about the business of personal data management, or so-called MyData, and its implications for the financial services industry. A prominent professor from Kyung Hee University gave a lecture on the concept of MyData and five different business models involving My Data. He also discussed the importance of getting the hang of the MyData business for financial companies. As personal data has increasingly significant value from social, economic, and practical perspectives, the MyData business has been attracting a great deal of interest across industries, making the session on this topic all the more meaningful.
For the second session, a distinguished professor from Seoul National University gave a presentation on the artificial intelligence industry in the context of the Digital New Deal, one of the two major pillars of the Korean New Deal that the Korean government announced to spur economic growth and innovation. The Digital New Deal aims to transition Korea to a digital economy that centers on technologies such as AI and big data. He shed light on what social and economic changes are being brought about by the development of AI and what the future of AI will look like, while also discussing the need for companies to build competitiveness in AI-based business capabilities.
The third session was about catastrophe (CAT) modeling, a follow-up to last year's webinar session. A deputy general manager from the Risk Management Team of Korean Re delivered a presentation on the topic of Cat Modeling: Cyber Risk, Pandemic, and Non-Modeled Perils. Cyber risk and pandemics are recognized among the most alarming risks by businesses, and the modeling of such risks has become an important topic for those who want and need to reinforce their risk management. The speaker addressed how cyber risk and pandemic models work and elaborated on types of non-modeled risk, stressing the importance of understanding and managing non-modeled catastrophe risks.
On November 11, Korean Re held its second insurance webinar for 2021 to provide insights into important market issues, such as the rise of the metaverse and growing climate risks. The webinar had three sessions, with each delivered by a different speaker. The first session was about what the metaverse is and how it can be used in a wide range of industries. A senior official from RSUPPORT gave a speech on the concept of the metaverse and its applications. For the second session, a distinguished professor from Hanyang University gave a lecture on global warming and climate crisis. He shed light on what has been causing global warming and what impacts global warming has been having on the Korean Peninsula. The third session was about the Overview of Reinsurance. A manager from the Strategic Planning Office at Korean Re delivered a presentation on how reinsurance works and types of reinsurance contracts. He also briefly touched on the history of reinsurance, market participants, and market cycles.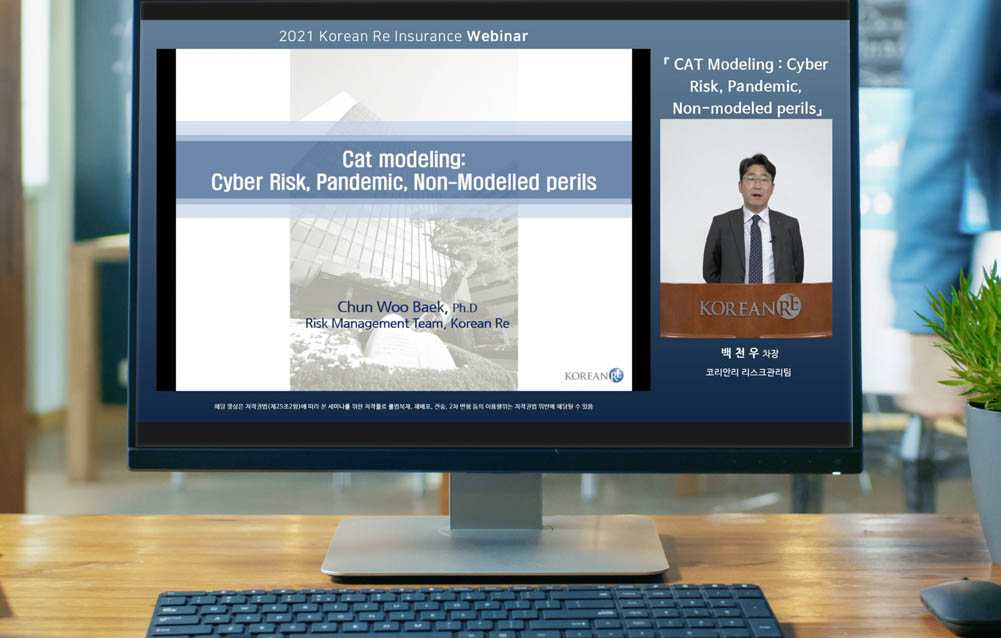 Korean Re Signed a Coinsurance Agreement with Shinhan Life
In December 2021, Korean Re entered into a coinsurance agreement with Shinhan Life to help the life insurer manage its assets and liabilities based on economic value. As the first coinsurance business that we have assumed, the agreement is expected to give rise to a raft of new business opportunities for us going forward.
Over the last year, Korean Re analyzed the business portfolios of Shinhan Life to figure out the best possible way to meet the life insurer's needs. The recently signed agreement will lead to individual transactions that are collectively worth up to KRW 500 billion. Shinhan Life had been seeking to make use of coinsurance arrangements as an asset and liability management (ALM) tool, and its coinsurance deal with Korean Re will help mitigate its financial risks resulting from a mismatch of assets and liabilities.
Coinsurance allows primary insurers to transfer all risks associated with the insurance policies they issue, including underwriting risk and interest rate risk, to reinsurers, as opposed to the traditional reinsurance structure where investment risk is not transferred.
Korean Re will continue to deepen its cooperative business relationship with Shinhan Life as both parties agreed to keep working together to expand the scope of business to be ceded under coinsurance deals. In other words, the recent coinsurance agreement is expected to help set the stage for both companies to increase bilateral transactions over the long term.
Building on the success of its first coinsurance business, Korean Re will seek to lead the growth of the domestic coinsurance market. While we remain committed to providing traditional reinsurance arrangements, we will continue to develop a wide range of coinsurance solutions not only for local life insurers but also for overseas insurers.
Since July 2020, Korean Re has formed a strategic alliance with The Carlyle Group, one of the top private equity fund managers in the world in a bid to to provide coinsurance solutions and related services to insurance companies in Korea. Both parties are working closely together to develop coinsurance solutions that are best suitable for primary insurers in the domestic market. The bilateral cooperation covers a wide range of areas from product design, structuring, and pricing to reinsurance asset management, required capital management, and new capital funding.
Korean Re Became the 10th Largest Reinsurer in the World
Korean Re ranked 10th in the world in terms of gross written premiums in 2020 according to a report released by A.M. Best in 2021. Our global ranking announced by the international credit rating agency was up one notch from the previous year. Korean Re is the only local financial company in Korea that ranks among the world's top 10 players in its industry.
One of the key drivers for the growth was our global business expansion, which was backed by effective risk management. Korean Re now has 13 presences across the world. This effort to expand into global markets resulted in the steady growth of our overseas business.
Munich Re took the number one spot in the global rankings, followed by Swiss Re, Hannover Re, and SCOR. To achieve greater precision in its annual ranking of global reinsurance companies, A.M. Best said its analysis for the 2021 ranking included only year-end gross reinsurance premiums written, removing any primary premiums.
Since Korean Re joined the ranks of the world's top 10 reinsurers for the first time in 2011, it has achieved stable business growth, with its ranking remaining mostly steady and close to the 10th spot. We will continue our efforts to explore new markets and execute effective portfolio management strategies so that our competitive strength can be maintained and even enhanced among the world's leading reinsurers.